How to set your teams up for remote work success
Earlier today, I hosted a Facebook LIVE livestream to discuss how to set your team up for remote work success during these times. If you want to watch the full video, you can see it here.
If you want the abridged version, then read on below.
Last week I provided guidance on how to lead during times of crisis and uncertainty. Today, we're going to go a bit deeper.
You've likely seen a number of articles this week on the best tips for working from home as an individual: make sure you're wearing clothes, make sure you're wearing shoes, brush your teeth, don't sit at your desk all day long. But we haven't seen as much information on how to lead your team when they're suddenly working remote for an extended period.
I teach business leaders how to provide SIMPLE experiences to their customers and their team members through six key behaviors. Three of those behaviors apply directly to this situation:
Innovate to stay ahead
Minimize barriers
Empathize with your "customers" (that includes your team members)
Innovate to stay ahead
When you innovate to stay ahead, you're constantly looking at those things coming in the future (or even right now) that will affect your business or that will affect your customer. What are the steps you can take to get ahead of that and change the experience you provide, change how you operate or change how you lead your team? And "innovation" doesn't necessarily mean technological innovations - it can be any changes you make to improve the overall experience.
If your team is now fully working remote, I challenge you to replicate as much of your team culture and traditions as possible. And with video conferencing tools like Zoom and Skype you can still hold face-to-face meetings. You may have only held phone conference calls or staff meetings on those rare days when the team was remote before. But it's critically important for you and your team members to be able to see each other when communicating. When you're at work, you likely make a point to go and visit and catch up and have some face time with each of your team members (if not, why not?). You can still do the same with video chat and conferencing tools. It will be so valuable for you to continue this amount of "face time."
Does your team have a regular lunch outing? Consider doing that via video conferencing.
Does your team have a weekly coffee and donuts get-together? Consider doing that via video conferencing.
During this situation of remote work, it's possible (although not for everyone) that you and your team have some extra downtime associated with this new environment. Now's your chance to work on those things that you've been putting on the "backburner" because you didn't have enough bandwidth. This is your chance to hold that team strategy session or that brainstorm session on solving a particular problem. This is also your chance to look at your current operations and processes as a team. Where are there gaps that can be filled? Where can you make some improvements, especially considering how things may change going forward?
Minimize Barriers
As a leader, it's your job to minimize barriers for your team members. It's possible that your team members may not have all the tools and resources they need to effectively perform their job remotely for an extended period. Make sure they have EVERYTHING they need. Don't simply assume.
Reaves Law Firm, PLLC recently directed all of their employees to work remotely starting last week. Before they did, they surveyed every employee to ensure they had the tools and capabilities to perform their jobs effectively. The firm then allowed necessary tools to be delivered home to those who needed it to effectively work remote.
I don't know if you know this, but apparently schools, preschools and daycares are all out too. You know what that means? Lots of little children are creating "barriers" for team members to meet on conference calls and staff meetings. If your kids (or your team members' kids) are anything like mine, they're really curious about whatever meeting I'm currently in and have a tendency to come in and disrupt the meeting if given the chance.
But I may just have found a solution. As "unprofessional" as it sounds, I propose having a moment at the start of each meeting for your team members' kids to join in. Have them say "Hi" and introduce themselves, and maybe answer a question of the day like "What did you eat for breakfast?" and then have them say "Goodbye." Once they've had the opportunity to look and "join" the video, their curiosity will likely be over and they'll be on their way, decreasing chances of disruption.
Empathize with your customers
No matter who you are, you have customers. As a leader, you have your business's customers. But your customers are also the people who report to you.
The best customer experiences all include a level of empathy with the customer. As a leader, empathize with your team. Recognize that if the entire family is home all day, work-life-balance has gone. Now, it's all melded together. With that, your team members are going to have other personal demands that require their attention throughout the day.
It's possible that you need your team members to be accessible, but maybe not ALL DAY LONG. Decide with your team on a set of "core hours" that they need to be easily accessible. Maybe it's 10:00am - 3:00pm. Maybe it's 9:00am to 1:00pm. Once you agree on, and set, these core hours the make sure your essential meetings and communications fall within those hours. If there's no issues with necessary work being completed on-time, then let this system of "core hours" continue.
Just as it's important to set "core hours" you also need to ensure that your team has boundaries. When leaders send an email to their team members, many of them feel compelled to reply right away. You may have an idea, or question, let at night and feel compelled to go ahead and shoot an email about it to the team. Don't. Either save it as a draft and send it during normal hours or simply schedule it to be sent during normal hours. Help your team members be present with their families by setting boundaries on when work shouldn't be done and hold them (and yourself) accountable.
When this is all over, the leaders who stand out are going to be the ones who were able to keep their team culture strong and vibrant and actually create some new solutions instead of simply "keeping the lights on." And YOU are a leader who's going to stand out.
One last thing, as a leader, you should remain calm and strong in front of your team to help them remain calm and strong. That doesn't mean that you don't have concerns or fears. Just as your team looks to you, you need to have someone that you can look to and share your concerns. Maybe it's your leadership. Maybe it's a mentor. Maybe it's another peer.
You can even reach out to me. If you have any questions, concerns, fears, or anything you want to discuss, please reach out. You can simply reply to this email or you can send me a DM via any of my social channels.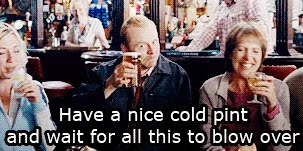 In the meantime, I'll likely be at the Winchester with a nice, cold pint waiting for this all to blow over.
Click here to sign up for my email newsletter and never miss another idea from me.
Are you signed up to get notified on new posts and podcast episodes?
You'll never miss another idea from Matt.
You hate SPAM, right? Us too! We'll never sell your information, for any reason.